Latest News
2/1/17
We will be unavailable from February 1 to April 1. During this time, we recommend choosing one of the other great service providers in Ashland.
10/8/17
Need a website optimized for top rankings in search engines? Ask about the latest specials and view our portfolio at the services page.
3/19/17
Call to hear about our two used desktops complete with LCD monitors, mouse and keyboard. Selling for great prices!
8/12/16
Our value system now includes 6GB of ram, a 1TB Hard drive, and DVD Writing capabilities for only $499!
This PC is made with state-of-the-art components designed to meet the highest standards of speed and reliability! With capabilities to run four large monitors, this system may take your portfolio up to the next level!

NEW Intel Core i7 Quad 2.66 GHz (the power of four processors!)

8 GB DDR3 1600 Ram

300 Gigabyte SATA Hard Drive (Super fast 10,000 RPM)

Extra 1 Terabyte SATA Hard Drive

DVD-RW Drive with CD writing capablilities

Capabilities to simitaneously display on FOUR monitors!

Free Microsoft Antivirus Protection ($50 value)

All for $1399 - You can't even get a computer like this from Dell!

Ask for our many upgrades, some as low as an addititional $40!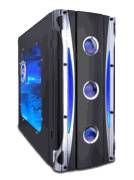 Some of our main services:
Computer Repair & Upgrades
Web Development & Print Design
Video & Sound Editing
Digitalize Music and Home Videos
Wired Networking & Wireless Networking
Home Theater Set-Up
- Look for more in our services section -